Road to Nepal
Visiting Nepal had been a dream of mine for a long while. I finally decided to do something about it in 2010, during a period when I was unemployed for a while. Although I had already been on many adventures with Ursula, I had never really done one on my own, and I felt that it would do me good to organise and execute such a thing without relying on Ursula's language and people skills, which had previously been all too easy to do.
This time, I would organise a complicated independent adventure lasting about a month which would push me in a lot of ways. At the same time of course, I would get to visit the Himalayas… without question the greatest mountain range on the planet, and home to more 8000m peaks than anywhere else on Earth. Having secured Ursula's blessing, the plan moved forward.
I found out early on that although I tend to hate administration in normal life, I enjoyed the organising process for such a trip: researching ideas, planning an approximate itinerary, finding out what I could and could not organise before arrival, and what I must do in-country. And also, because I would be trekking, I had to meticulously decide what to pack. This is no small feat. The more you bring the better prepared you are, but the greater the weight.
So here is the Journal, reproduced from 2010! It begins with final preparations, about ten days before setting off. It contains the original images I inserted into the Journal at that time, some with iPhone photos where quality was clearly not as good as with my Sony compact……
Journal: Nepal, Himalayas, and Everest Base Camp.
FRIDAY, 5 MARCH 2010 10:41
Another week, another injection. Waiting for my turn at the Impfzentrum [the vaccination centre], part of the Zurich University, except not student prices! All in all I've spent CHF 600 on vaccinations, I'm quite sure not all of them perfectly necessary. This time the third and final rabies shot, followed by some other stuff next week.
Told Dad last night about my trip. He called me an idiot but didn't seem too perturbed.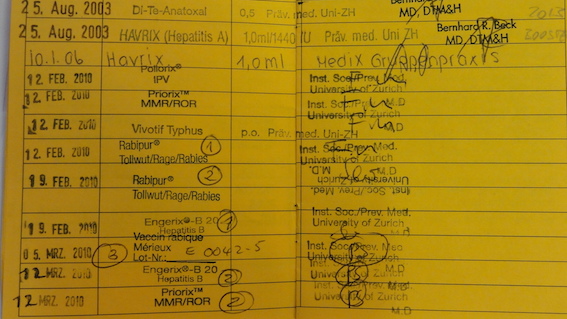 Just some of my vaccinations

FRIDAY, 5 MARCH 2010 18:20
I thought backpacking was supposed to be cheap. Anything but according to my packing list. I am embarrassed to say how much I just spent on some pieces of thermal underwear, just shocking. I mean, I really can't bring myself to write it. Just two words for you: Merino wool.


FRIDAY, 12 MARCH 2010 09:14
Rush rush rush. My rucksack weighs 18kg, need to get that to under 15kg. On my way for more vaccinations as I type.


WEDNESDAY, 17 MARCH 2010 03:52
It has begun. A sad goodbye to Ursula, a phone call to calm my Father, a smooth flight on Qatar Airways vy large Airbus, a creaky unrelaxed hour or two of sleep on board, and a landing path through a surprisingly gorgeous set of Doha skyscrapers after some bland but lovely Qatari landscape incl. the obligatory oil refineries.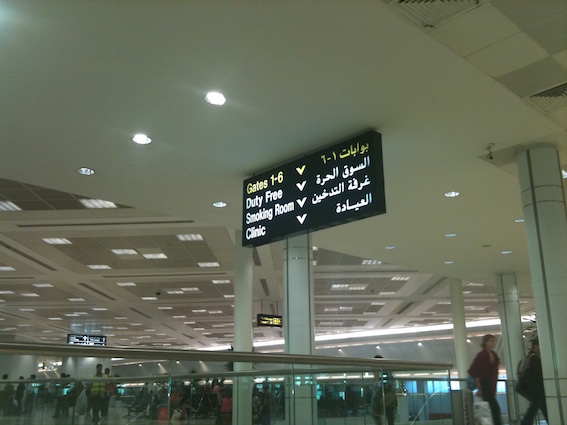 Doha Airport Lounge, where I lounged

WEDNESDAY, 17 MARCH 2010 20:10
Five stars are for the sheer madness of Kathmandu. Smooth flight from Doha, steamy clouds so no view of any mountains unfortunately [Edit: Upon descent, the Captain remarked that we were flying at around 5000m above sea level. I looked out and although visibility was hazy, I marvelled at how high we were and yet how the summit of Everest, lurking out there somewhere in the distance, would still be 4 vertical kilometers above where we were cruising now… truly a humbling and exciting thought] .
Absolutely sickening petrol fumes and smog on the half an hour 7km trip to my guest house, which however seems fine and friendly.
Already spoke to the travel agency, looks like I will book my onward internal flight to the Mountains tomorrow.
So, first impressions already started on the flight into Kathmandu. Unlike the first leg to Doha, this one contained seemingly a lot of migrant workers, who took advantage of all the free drinks in a big way and seemed fascinated by ringing the service bell multiple times. Then most of them only had a cardboard box as luggage on the conveyor.
Worried that I would get mugged by my arranged taxi… it did not look like we were travelling to the city centre, so I hid my asthma inhaler in my sock [this being the one item I really couldn't afford to lose], may not be the first time I do that. However, it turned out that the driver just needed to collect a package from a friends house. I was genuinely frightened at this point, but half an hour later I was entering the gates of the famous Kathmandu Guest House (KGH)
[Edit: The KGH is a revered hotel where the rooms start at $2 per night… it's a magical wonderful place, where one can escape the madness of the city for some tranquil respite].
No mobile phone signal, so will try to inform about my arrival by Internet. After that, maybe a quick explore and a decision about guides perhaps.
Edit: maybe due to tiredness, looking outside the gate of the hotel I was pretty much too scared to even walk up the street, such was the hustle and bustle. So I retreated to the room, where I felt a bit low about my cowardice
A sign proclaims that The Beatles stayed in my room [given how old the furniture looks, quite possibly in the actual bed]! ★★★★★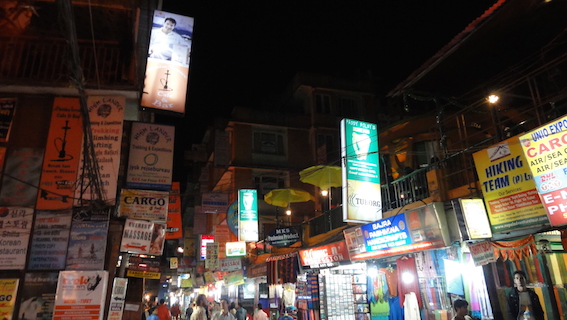 Nighttime was not quieter, this just outside my hotel.

THURSDAY, 18 MARCH 2010 16:39
Streets are madness but have begun to acclimatise, not to altitude but rather to attitude. My scary internal flight (when else can you fly with Yeti Airlines!) is now booked for Saturday (it is Thursday) and I'm still umming & arring about whether to take a porter cum guide or not. Someone else has been on touch with me on trekinfo forum about maybe joining, I am trying to coordinate a meeting with him now.
[Edit: The "scary internal flight" is from Kathmandu to the trailhead from which the trek proper begins. It is a 45 minute flight on a small propeller plane into the most dangerous airport on planet Earth: Lukla. About once a year on average, one of the planes crashes and a group of trekkers bite the dust].
What to do? Every time I hear the evidence for each side (to porter or not to porter) I am alternately convinced. I'm guessing I will go for it, mainly for the Cho La pass, which apparently can be quite difficult.

Ok time to go and visit Durbar Square [the old city], it is supposed to be impressive. ★★★★★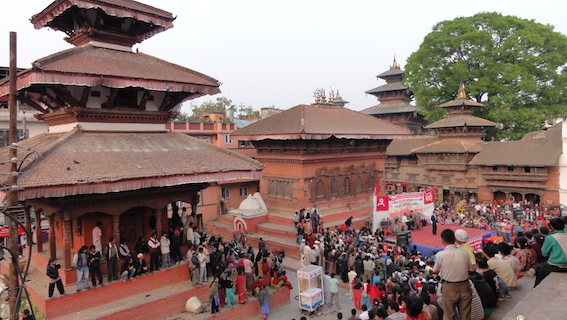 A political rally in the old part of town. My lonely planet advises me to keep my distance.

THURSDAY, 18 MARCH 2010 22:24
Ganis the porter guide is hired.
[Edit: I was always very clear about not wanting to join an organised group on a trek. While independent travel often brings great and fruitful opportunities to meet interesting characters, I've never been one for group tours: I didn't come to Nepal to listen to a bunch of foreigners talk about their jobs back home and so on (… oh and what do you DO?, as if that is the only thing that defines you). Nor do I want my schedule to be dictated by group needs. I did consider hooking up with another independent traveller while in country but in the end I would follow my original plan: I would hire a porter guide and it would just be myself and him on the trail, staying overnight at local mountain huts. Ganis was eighteen years old, understood little English and I understood no Nepalese at all outside of yes, no, please and thank you. But we seemed able to communicate easily enough in spite of this].

THURSDAY, 18 MARCH 2010 22:48
Tomorrow is left for the final arrangements for the trek. First thing will visit a holy temple which apparently has a lot of monkeys making mischief. Hopefully I don't get to test my rabies resilience too soon. The dogs here so far, while many, seem docile and chilled out.
Beer in a Shisha bar before bed. I doubt I will drink much if at all at high altitude so may as well have one now, although bars here stop serving at 10:00pm.

SATURDAY, 20 MARCH 2010 05:54
Airport departure lounge, awaiting boarding, although somewhat suspicious of what I'm boarding. Exciting though! Happy that Ganis turned up, and already proved himself useful by getting me a cheaper airport taxi fare.
Should be getting my first mountain views in an hour or two!

SATURDAY, 20 MARCH 2010 07:30
The flight was beyond awesome! I am in the Himalayas. ★★★★★

SATURDAY, 20 MARCH 2010 17:04
So my first day of Himalayan trekking…. I am at Phakding. The flight was exhilarating and mercifully not too bumpy. I could see into the cockpit and during landing I could see the short runway rushing up to meet us. I feel sure that this will be a memory etched deep into my brain as long as I am alive.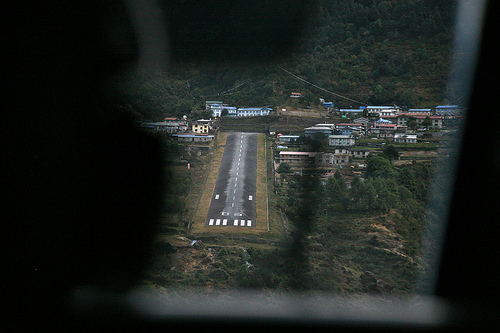 View of landing at Lukla Airport Runway. Shudder!
Trekking with Ganis brought predictable conflicting thoughts. On one side, he arranged many things making my passage easier at the airport and so on. On the other he clearly has lodges en route that he favours and the first example turned out to be not really great. A very dark and dingy place, very atmospheric Nepali kitchen that I surreptitiously failed to photograph (and Ganis eating Dal Bhat with his right hand rather than cutlery, strange and new to see). But a distinctly bad taste was left in the air when I decided not to take the room.
I will have to be careful to play that more diplomatically in future, and ask before town at least to see from outside any favoured options, and in the some case simply push through with choosing where I like.
Luckily Ganis's other favoured abode turned out to be much nicer, with a good view on the surrounding peaks. When after Lukla I first asked if he knew the sharp and huge looking mountain ahead, Ganis said it was called Phakding peak but was "only a hill". That bodes well for the potential scenery ahead.
In the end I think it will work out fine with Ganis. While I would like to somehow do it without him and could possibly just about handle the weight, he may well prove his worth in other ways. After all this was probably the easiest day of the whole trek, and what do I know about crossing high Himalayan passes, even if it's with other Trekkers I might meet? Onto food, Fried momo's for lunch (Tibetan dim sum - good!), more for dinner as is my way, and trying some Dal Bhat. They eat early here, it's 5:20pm and my meal is due in ten minutes.
Worth pointing out that my room, which is fine and has a nice view, costs 50 rupees per night which is 45 english pence. On the other hand, a coffee costs 70 rupees and a hot shower 200? Must not forget to take in my dried towel before leaving.
Big day tomorrow, 6 hour climb to Namche, should be fun one way or another. Ganis laughingly suggests a nice big breakfast, as nothing else on route until arrival. So tomorrow first big test, although everything on this trip already has Been a test one way or the other.


SUNDAY, 21 MARCH 2010 14:59
Today the first serious climb. After breakfast a pleasant walk along the river, crossing some spectacular suspension bridges and dodging yak and donkey herds. Passed a chunky looking trekker carrying a very large rubber python around his neck, and a large rubber lizard on his backpack. Nothing surprises you here, somehow.
Lunch of more fried Momo's, I really like them.
Climbed from about 2600 to 3480m, above the river from Phakding. Got my first view of Everest, Lhotse, and Nuptse, they already looked magnificent. I recognised Everest straight away. It didn't provoke euphoria, but I'm very pleased to have now seen it. I bet it would great from a distance on the Tibetan plateau, as Michael Palin first viewed it [I had seen his TV documentary about Everest and bought the book version in Kathmandu. For his trip, he came in from the Tibetan side, an altogether different experience as one can drive most of the way to the Tibetan face of Everest, whereas on the Nepal side we would be nearly a hundred miles from any major road!]
On the far side of the valley lay a very very deep gorge, seemed to be a fair bit more vertical extent than Chamonix - Mont Blanc. A booming sound announced the first avalanche I have ever heard, but I could see nothing. Soon after, some rocks came tumbling onto our path above us, but nothing too dangerous.
I felt very pleased with my climbing performance. Although a hard climb, I did not struggle unduly and I even overtook several Trekkers. I'm very pleased also with the trekking poles... They take maybe half a day to get used to but seemed a big help. Feeling fit and strong and not a little egoistic, I told Ganis I would like to carry my own pack (and my day pack) the rest of the way to the lodge just maybe ten minutes uphill. A rude awakening of course. Fucking hell! What a difference, I would have struggled massively today with all that lot (maybe 18.5kg best guess). Of course, if I was without Ganis I would have shed some weight back in Kathmandu, and probably more on the trail. But a lesson in what a help Ganis has been already.
Ominous portents from a somewhat bragging couple on their return, whom I overheard when checking in at the national park checkpoint. Up above it's either super hot, super cold, and a real struggle apparently (plus they said that everybody smells?).
Well, let's just be proud of what I did today, and see how it goes. Missing Ursula and will email her later today. Namche is probably the last spot from which I can or will keep in contact with the outside World until I return here, hopefully with good things to declare. ★★★★★ Places: Namche, Nepal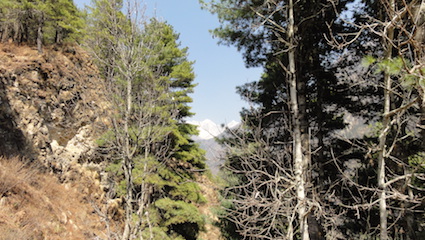 First ever view of Mount Everest, hard to see as it is about 40km away at this point

SUNDAY, 21 MARCH 2010 21:08
Chatted to Ursula on whatsapp tonight from the local cyber cafe [Edit: "Cyber Cafe," what a funny concept]. Definite feeling of being at altitude. Walking back from the cafe to the moonlight lodge where I am sleeping, was really a lot harder, and this only 3500m above sea level. Plus I have a dull headache in the background. Let's hope acclimatisation days really help.
Tomorrow apparently highest hotel In world (I guess because from now on they are called lodges?). Hmmm, seems like a chance to easily beat that by calling ones higher lodge a hotel.


MONDAY, 22 MARCH 2010 07:54
Rooms with a view here are not really a problem..... ★★★★★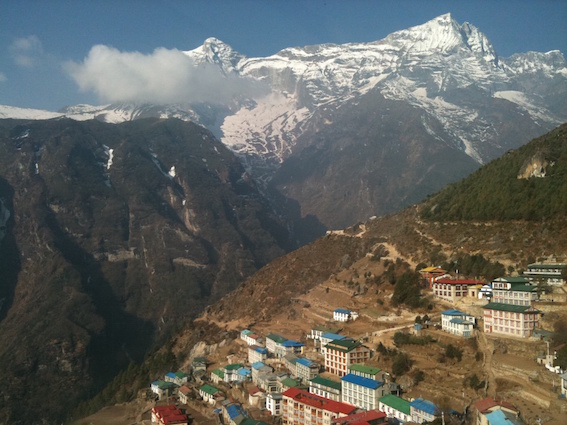 View from my hotel room at Namche Bazaar, the last proper settlement on the trail

MONDAY, 22 MARCH 2010 13:29
Acclimatisation trek definitely harder up here, made it to 3900m above sea level, had a nice lemon tea which came with fresh lime. Great views of Everest, Nuptse, and the spectacular Ama Dablam. Then saw the precious yeti head [a supposed Yeti was caught and scalped in the area years ago. It is kept in the local temple and for a small fee and if you ask nicely, the local monk will open up the cabinet and show it to you. It did indeed have a strange look about it, but it's probably from a Yak!]. Was an interesting Gompa (temple) with a prayer wheel about 3 metres high!
Also saw the school that Edmund Hillary's set up. Soon the sky clouded over. I would have been somewhat disturbed about finding my way without ganis, so that's another brownie point for him. Cloudy meant the temperature dropped sharply. I resolved to now always carry my Primaloft and gloves in my day pack, in case of this. Reading Michael Palins Himalaya, vy enjoyable. He writes a much better diary than I do. Resting in bed at the moment and will read some more right now.

MONDAY, 22 MARCH 2010 19:32
Tomorrow Tengboche, I think I can handle that, I saw the road from above today and it looked quite nice, even though quite s climb towards the end I think. After that though it's all a bit unknown, and if I'm honest, scary. High altitude, extreme temperatures, uncomfortable sleeps, hard breathing, and some sense of danger too. Also the twin uncomfortable worries of not being able to make it, and being out of touch with the outside world for so long.... It seems that mobile phone and Internet will be out for up to the next two weeks or more.... Shocking really to a city dweller in 2010 but there it is.


TUESDAY, 23 MARCH 2010 16:17
Walk achievable. 5 hours including lunch, last two steep uphill, took a steeper shortcut and followed a yak train for about twenty minutes. Tengboche supposed to be a spectacular setting, but arrived in misty cloud. Most likely in the morning will be clear.
When changing my T-shirt I knocked the lightbulb out of it's socket in my room. Lightbulb itself was fine but the socket broken which was worse. Called Ganis and in comedy fashion he pointlessly tried to screw it in and then broke the lightbulb too. Some concern over how to deal with that. Later one of these guys who can always fix things turns up and replaces the socket. Then we take a break and I'm awaiting news on the lightbulb itself. Maybe later, I don't know. The lightbulb is now my major concern in life. One's focus here can easily contract.
The Japanese team are staying here too, including a lady who I think is in charge and looks more like a mountaineer. Funny when passing them on the trail, all shouting at each other to step aside for us, and many ooohs and ahhhs spoken.
Waiting for the fire to start here in the lodge. Looks like a wooden one this time. A bit more denuded forest, thanks to tourism.
Altitude wise, I am feeling ok. Another rest day tomorrow. Met Thomas the German on the trail again, had lunch together.
Tonight I'm calm. But had such a nightmare last night, I was trapped me in a car at night and pushed down a hill into a pond I think. I remember water rushing in, and I woke with my arms trapped the same way as in the dream, a real sense of dread. The altitude here really seems to encourage vivid dreams and thoughts. And the whole sense of being on one's own can lead to some deep reflection. However, I strongly resisted the idea of joining a tour group on this trip because I wanted a more solitary experience, so I will have to live with it.
Just ordered my Dal Bhat [vegetable curry with lentils and other vegetables and rice, it's very tasty and by tradition they always offer a second portion], the staple which Ganis eats twice a day, almost every day of the year, and normally with just his right hand... Left hand being reserved for scooping the poo off his arse somehow, though I still can't visualise quite how that works.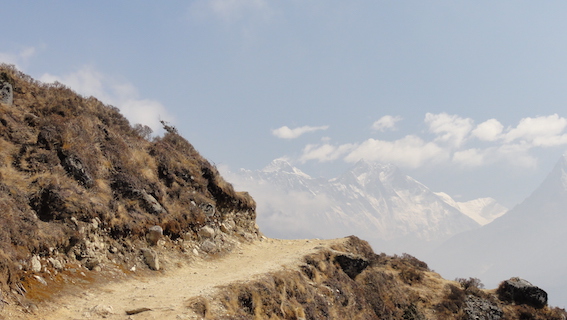 One of my favourite photos from the trip, what a trail!

WEDNESDAY, 24 MARCH 2010 07:06
The Japenese group will turn back today, scared of the altitude [that is actually the reason]. I notice that the group leader takes each of their pulses with a little machine, twice a day. To their credit, they all appear to be well on the wrong side of sixty. They are now just being cautious. Fair enough.
Maybe I haven't noted it yet, but no rooms on this trek are heated. Just thin wooden walled rooms at 4000m. And it will get much colder. A good sleeping bag is a must.
I am up early waiting for Ganis, who is about to arrive and show me the morning worship at the local monastery.
The ceremony was fascinating. After taking off my shoes I was able to enter the room where about 30 red robed monks sat on raised benches and chanted away while reading what I presume are some kind of bible. All very atmospheric until I spotted that the lead chant was coming from a cheap cd player standing on the alter! Ganis then explained that it is the voice of the head lama but he is away. Later he pointed at burial markers where cremated remains are interred. It reminded me of Mum of course.

The Japenese are eating Sushi for breakfast. What Ursula said about them often bringing their own cook, seems to be spot on.


WEDNESDAY, 24 MARCH 2010 14:24
Time for today's second diary entry. Day two of Tengboche, took a walk up to 4000m above the town. Otherwise a lazy day, promotes thinking and reflections.
Met Trevor (an ex Navy pilot I came to know in Kathmandu), he is now trekking with some mad looking bloke with an American accent and a walking stick with a sheep skull glued on top.
They move on to Pheriche, I feel like maybe I should have too, as I'm just lazing doing very little.
Now alone eating a slice of tasty walnut and coconut cake in a bakery next door to my lodge. Mad Nepal, this slice of cake is one third more expensive than my room.
I resolve to pay for yesterdays lightbulb fiasco.
Restaurants appear to all be non smoking. More progressive than Switzerland!
A bunch of Germans replace the Japanese.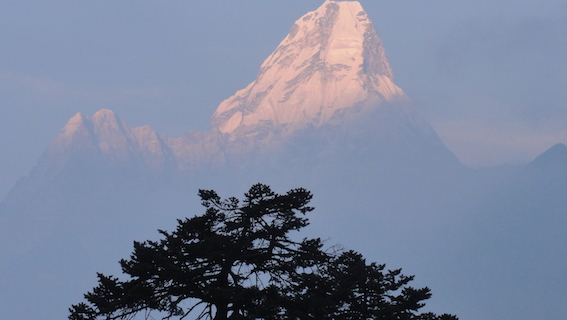 Ama Dablam, a stupendously beautiful mountain

WEDNESDAY, 24 MARCH 2010 17:59
Jeez, did a day ever go so slow? Had my fried rice and veg steamed Momo's. Steamed probably healthier and tasty so may stick to them. While not much fruit, I'm eating truckloads of vegetables, mainly due to not wanting to trust my life to the meat.
It's just turned 6pm. The communal yak-shit fire will cool by 8:30pm and then into bed for even more reading. I'm feeling a little low, I think the lack of agreeable company does not help one bit (the Germans to my left are constantly complaining about the food prices, comparing everything in Euros, or trying to alter the menu to their wishes).

WEDNESDAY, 24 MARCH 2010 20:22
8:30pm so finally I can go to bed. Hope I just sleep soundly, I'm looking forward to tomorrow and Pheriche. This as the gateway to the high mountains.... A rest day there and then the serious ascent is launched. Up up and away.


THURSDAY, 25 MARCH 2010 18:04
Day six of my trek, Pheriche, start of the highlands, a huge wind scoured valley. Tried to meet Trevor at the Himalayan hotel, met Anthony instead as he hiked over from Dengboche to hear the daily talk about acute mountain sickness at the local medical centre which specialises in this.
A very smart Californian who is volunteering here for a couple of months gave the talk about the dangers of altitude sickness. AMS, HAPE, HACE... Only the last two are normally dangerous but I have the first proper headache of the trip, so I took an aspirin. I should drink more water as well, and eat garlic soup.
Surprisingly they had Internet up here but expensive and my budget looks rickety. If the trek takes long there is a real chance of running out of money, though I can change a few greenbacks at Namche again, and will certainly have to. Running out before there will be embarrassing and problematical... No ATMs up here.
Five hour walk, was achievable and would be happy except for the headache. Reading "The Beckoning Silence" by Joe Simpson. As happens only to me, I'm pretty sure I've read it before and not noticed.
Saw huge eagle today, but Ganis said it was only a small one.
Nice mountain dog with sadly scruffy coat came to see me today, I fed her a peanut crunch bar on the plate after I finished an old tasting chow mein. The dogs slightly healthier looking friend followed us from afar for a couple of km after lunch. Dal Bhat again tonight. Filling and a concerted effort to save money for the time being.

THURSDAY, 25 MARCH 2010 19:33
Sleep apnea is a bit of a concern (it is a harmless but annoying medical condition caused by high altitude whereby I very temporarily stop taking breaths during sleep then gasp for the next one which wakes me up). If I don't sleep well tonight then I will strongly consider taking Diamox, the altitude sickness prophylactic.



THURSDAY, 25 MARCH 2010 20:39
Half eight in the evening, time for bed it seems on this trip. Cold, but sleeping bag will sort me. Thermal underwear again I think. Note: at the AMS clinic, I had my first ever o2 sat test, meaning oxygen saturation test. At this altitude, anything above 80 is good. Some guy had an impressive 88. My guide had 90. I had 91! But I'm the only one with a headache.



FRIDAY, 26 MARCH 2010 12:27
Moved from Pheriche to Dingboche on other side of hill, marginally higher. Hotel Arizona. Good views of the tremendous Lhotse and Island Peak. Headache is gone for now, which is great. Still have my appetite. Battery getting low but I don't want to pay for charging too much so journal may end for a while in a day or two.
You would be forgiven for thinking that The North Face sponsors the entire country. Fake or not, its everywhere.
Super view of Lhotse now obscured by clouds this time rolling in from the side rather than up the valley as has been the case until now. I think this is the classic route, and I can see for the first time with my own two eyes how it would not be much fun to be caught up there in the middle of a summit attempt.

FRIDAY, 26 MARCH 2010 16:14
I'm not really a fan of bucket showers [heat a bucket of water, then use a small pail to throw it over yourself, normally half scalding your skin to wash yourself before it goes cold]. I think that will be my last shower for five or six days.

FRIDAY, 26 MARCH 2010 17:30
Seems like many nights at this time (5:30pm) I feel disconsolate about my adventure. I would rather be back home with Ursula than on my own in a cold lodge in the middle of nowhere. Thoughts of leaving out the high mountain pass (after Everest base camp and Kala Pattha summit hike) and a judicious changing of my Qatar airways flight, flit through my mind.
I think things might have been better if I had met someone I liked, to undertake the journey with. I suppose I should counter with the fact that while I am actually en route on the trek, I feel really energised and alive.... Even relishing the solitude. So there I am, a mass of contradictions. No doubt I always shall be.


SATURDAY, 27 MARCH 2010 19:03
4650m, Dugla. Much enlivened by staying with Anthony, the Australian I have met a few times along the trail. Saw the gorgeous peaks of Cho Lhatse and Pumori. Now I am resting at the foot of the Khumbu Glacier, which leads all the way up the valley and eventually to the base camp.
Stayed in a nice cold lodge, spoke with the owner, he was on the fateful and tragic expedition in 1996 with Scott fisher, popularised by the book "Into Thin Air" [A great book, if you only read one book about Mountaineering, you could do worse than this]. His name Tashi Seling, or something similar. He has been on Everest twelve times, summited five of those. Says he met Scott on the mountain after he (Tashi) had summited, late, and that a lot of the problem was caused by clients paying so much and expecting to therefore summit, even though their ability was not up to it.
I asked if John Krakauers book was mostly correct. He replied blandly, "some things correct, some not."


SUNDAY, 28 MARCH 2010 17:12
Lobuche, 4950m. Very strenuous climb to here this morning. Only 350m but steep and for the first time my legs felt weak and listless. Anthony came up with, he was a bit faster but he has done triathlons so fair enough. After lunch of fried Momo's then we went 25 mins further up to find the research station known as the Italian Pyramid. Could not gain access but took a few photos. Made 5060m über meer (above Sea Level) and I am certainly fitter than in Ecuador at these heights but a niggling headache persists.
Happily met Trevor and Justin who were on the way down. Nine days bottom to top: hardcore and a fair bit less than recommended in terms of risking altitude sickness. Still, I made it to a similar altitude in three days to the Cotopaxi, with Ecudor's somewhat looser recommendations. Mind you, I felt like crawling under a rock and dying at some points there. Anyhow, nice to see them 'post base camp euphoric'.
These short treks followed by long rests are almost becoming too much for me. The early starts are ok but hanging around from 10:30 or 11am is almost harder than walking. Serious doubts about the Cho La pass creeping in, partially the hard work (and a bit of danger!), a huge helping of not wanting to hang around after short morning treks (Ganis is suggesting an itinerary which will exacerbate this).
Maybe I actually will come home early, or maybe I might even go somewhere else?
Tomorrow I aim to reach Everest Base Camp, finally a major objective. I have four potential objectives, and as I feel now, I'm thinking about cutting that to two [The base camp itself and summiting Kala Patthar].

SUNDAY, 28 MARCH 2010 20:24
I am in bed at 8:24pm. That means in a bed, under a makeshift blanket. I am wearing all my clothes... Thermal boxer shorts, thermal leggings, my north face trekking trousers, two icebreaker thermal tops, my north face down jacket, and I'm in my 4 season sleeping bag, and I'm cold. Brrrrrr.

SUNDAY, 28 MARCH 2010 20:28
I have taken my Diamox [the altitude sickness tablet]. Although I have slept ok so far, with only limited sleep apnea, I don't want to get it too much now. Let's see how I feel tomorrow but at the moment the Cho La pass doesn't look like fun. First snow fell tonight but only a sprinkling. Watching the end of my film now.

MONDAY, 29 MARCH 2010 10:44
Could not get warm last night.
Strenuous climb to Gorak Shep, 5150m. Lunch of vegetable noodles, good. It's 10:45am. About to start the trek to Everest base camp. Six hours return walk. Should be fun. Saw the glacier in its proper form, it is grey and mostly covered with rocks. Saw the Khumbu ice fall from afar. Going to try and make good time on this one. Feeling a bit weird physically, maybe have to visit the hole in the floor in a minute. Tingling in hands, apparently a side effect of diamox, the altitude drug. Very much thinking of making a beeline for Kathmandu after tomorrows ultimate climb to the summit of Kala Patta, 5545m, supposed to be the greatest view of Everest in the Himalayas (in good weather).

MONDAY, 29 MARCH 2010 15:34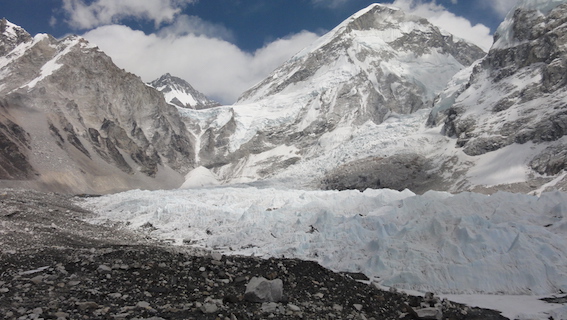 Base camp, with the Khumbu Icefall in the foreground

Five stars for having made base camp. Many people say it is a disappointment (mainly because you can't see Everest itself from base camp). On the other hand I found it riveting, I'm so glad to have made it there. The way gives great views of Nupste and then the top part of Mount Everest looms into view. The glacier is about 7km long, covered with rocks with exposed icy patches - I thought it would be the gleaming white European style glacier but it is caked with a soot like dust. Obviously the walk was strenuous, and for quite a bit of the time I was actually walking on the glacier, though it more resembled a post apocalyptic boulder field.
The edge of the glacier meets the ice fall higher up the valley. First there is a transition to pyramidal ice blocks, which looked rather a lot like what an eighties style computer might draw on a fractal type program. Then comes the icefall proper - a steep incline of amazing ice ridges stretching up into the high mountain.... Everest summiteers must first (and repeatedly for acclimatisation) climb through this maze, a different route every season as the icefall moves something like a meter a day. As I have read about the icefall several times in mountaineering books, it truly was a highlight to see with my own eyes.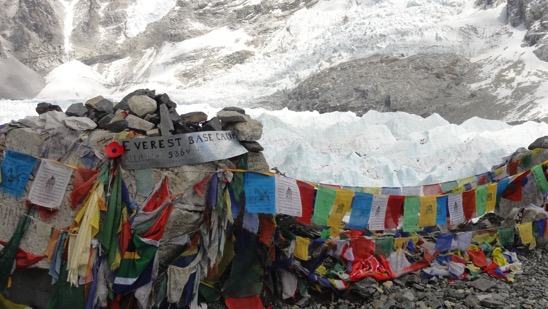 Base Camp, with Khumbu Icefall in background.

Before I forget this detail, I add that everywhere on the whole trek, I come across the small flavouring packets (still full mostly) of instant Japanese noodles. No noodles or the outer wrapper of course, that would make too much sense. Now back at the lodge, it took 4 hours as a round trip to and from EBC.
Above 5000m I'm fine on the flats and slight uphills, but anything approaching steep has my lungs burning and wobbly legs and gasping for breath within 10 meters. There is no longer and vegetation whatsoever at this altitude: no trees, no shrubs, no grass. Only rock, ice, and snow.
While I'm performing much better than in Ecuador, tomorrow appears to be a three hour continuous steep uphill. Still, I will struggle for the summit and make it, but I have decided that then enough is enough. Cho La would be harder still, over much more dangerous ground, i.e. Snow and maybe ice, and according to Ganis's schedule, would include at least four more nights above 4700m, where I am basically an ice lolly each night, trying and failing to melt myself. Having done this too many nights already, I am more than keen to go somewhere warmer at night.

MONDAY, 29 MARCH 2010 18:18
A small fire broke out from the yak-shit fire, belching nasty smoke. A weak fire alarm went off precisely three times at a low volume, then died. Now my eyes are stinging from the smoke.
Told Ganis that I'm more or less keen to start back to Kathmandu after tomorrows climb. Happy to get that out the way and I'm totally happy with the idea of heading back now and then seeing what's next. Good stuff. Once I've got that worrying summit out of the way tomorrow then I'm going to be Mr Happy indeed.



MONDAY, 29 MARCH 2010 20:16
Treated my mineral water bottle with iodine, as although sealed it looked a bit suspect [It has been known for unscrupulous types to refill water bottles with local stream water, which could be contaminated with bacteria or sewage]. I hope it doesn't taste too bad. 6am start tomorrow. Most people simply cannot sleep this high at Gorak Shep... 5180m above sea level.
Let's hope I'm an exception.
Sore throat, really hard to swallow, not helpful.



TUESDAY, 30 MARCH 2010 18:48
Earlier today I felt like a God, or at least a minor deity. I have summited Kala Patthar. Even though it's a walk not a climb, it's unquestionably the highest I have been, and I amazed myself at my performance.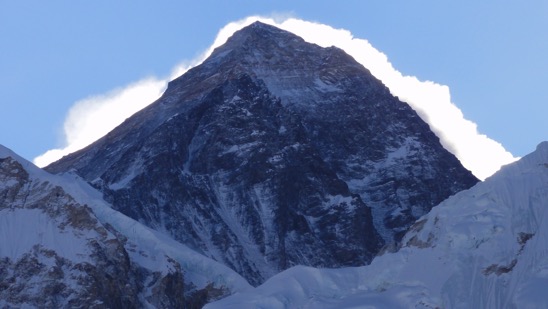 Here she is, zoomed in. Hillary Step is on the left.
After rising at 5:30am and a bit of mucking about with my bags, off we went at 6:10am. Outside the hotel is a fairly large sandy beach. Walking across it I already felt exhausted, and this before the continuous steep uphill 400m climb.... A challenge at normal elevations, much harder at over 5000m to begin with. Remember, that's five kilometers above Sea Level. It's difficult to explain to someone who hasn't experienced this, just how different it feels to being lower down. There is a reason why no humans on this planet live this high year round.
Ganis said that I would take about three hours to the summit. I took one hour and twenty five minutes.... And most amazingly I did not stop to rest once on the entire climb. This amazed me more than anything... I expected about twenty rest stops. I felt very proud and the view really is something to behold and remember.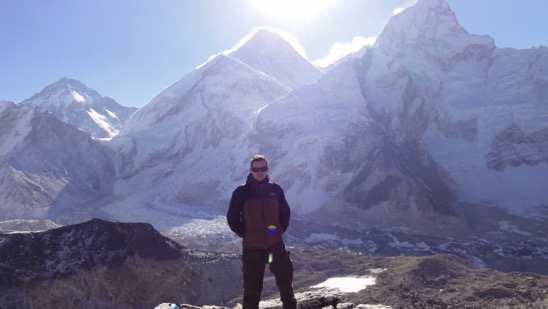 View from Kala Pattha, my highest point. Everest If the second highest looking mountain, because it is further away
Celebrated with Tibetan bread (fried bread) and Thugba (Tibetan soup with pasta). Then began the downward journey. Ganis said I would sweat a lot on the way down today…. It's an incredible 1400m of descent.. But an hour after leaving Gorak Shep, it started to snow and by an hour later it was a proper blizzard.
After a quick tea stop, the snow and winds increased further, making the final few hours fairly interesting, with many stream crossings in addition to the blizzard. By the time we reached Pheriche, I was pretty cold and wet but went to the AMS speech for a second time as I had a few questions and it's interesting... My o2 saturation is now 92, a very good score.... Who would have thought.
Still at least three further nights left after this one before Kathmandu ... Then I must decide what to do, but for today my achievements should be enough. Must request a blanket though, my room did not have one.
Unfortunately feeling a bit of a chill and a little over full or sick. I hope I have earned a good sleep from the mountain Gods today. ★★★★★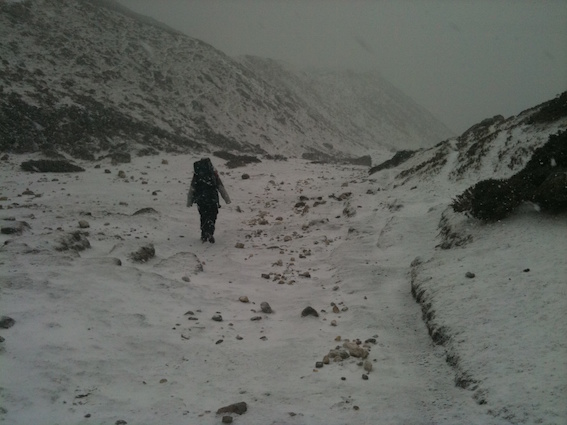 Here is where a guide comes in very handy

WEDNESDAY, 31 MARCH 2010 08:29
Water bottle frozen when I awoke.

WEDNESDAY, 31 MARCH 2010 12:34
Arriving back in Tengboche, had a stitch the whole time so worried about a burst appendix... Silly maybe but that should be on everybody's list of things not to get while Himalayan trekking. So I ordered lunch without committing to taking a room, as I thought that if the stitch continued through and after lunch, I might have to continue 4.5 hours to Namche, where a doctor could more likely be contacted.

Edit: Seems ok so decide to stay but no room at the inn, so will have to look elsewhere.

WEDNESDAY, 31 MARCH 2010 16:09
Went to the ceremony at the monastery again, not as good in the afternoon but still an ok way to kill an hour. My stitch reappeared, Bruce says he had a mate who went climbing in Tibet with an American whose appendix burst... he died on the mountain because of it. Made me feel weak at the knees. Oh well, hopefully I will be ok.

I could walk thirty minutes down the hill where they maybe have Internet and google the symptoms, but I guess I will wait and see. Will google that from Namche tomorrow.

WEDNESDAY, 31 MARCH 2010 18:20
I eventually cracked and walked down the hill to talk to google, convinced that if a persistent stitch was symptomatic of appendicitis then I would tell Ganis that we must trek for five hours in the dark to Namche. Luckily google didn't really seem to think I needed to, although it offered no great advice about persistent stitches at all. Ganis gamely accompanied me down, he is vy good indeed.
A great view of distant Everest from here... It was clear to see that it was snowing up there again today. Just took a picture and will attach. Cho La pass would have been potentially lethal. Great decision to avoid.
Incredibly, I forgot to recount the big story from yesterday. Upon our descent from the top we took a break lower down at Lobuche. Ganis mentioned that a porter, on the day we stayed there (two days ago), had taken a load to EBC then had come back to Lobuche (where we were now). He then drank quite a bit of wine and did not eat that much. It became clear that he was debilitated somehow.... It looks like a case of HACE (high altitude cerebral odema). This is something that can develop in addition to AMS (acute mountain sickness). The symptoms of this are somewhat like drunkeness anyway, but the porters clubbed together to hire some people to physically carry him further down. Just 2km out of Lobuche, he unfortunately died. They left his body there overnight and the police picked it up and brought it down the next day. When I was down today checking google, I also got an email from Trevor, the ex navy pilot, saying that he and Justin had passed the dead porter shortly after meeting me and Anthony on the way down.
There are slightly troubling aspects to this. It seems that the locals took care of this amongst themselves. Maybe a western doctor would have been at one of the lodges. The day after I went again to the AMS clinic at Pheriche, and nothing was mentioned... Maybe not to scare the tourists, or maybe they didn't even know. I guess it's ok that Ganis didn't tell me. After all, not much I could have done. That being said, it brought some realities of trekking home.
As we trekked down through the blizzard yesterday, several very lightly dressed porters continued their ascent.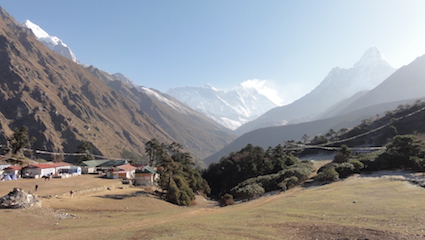 Distant Everest with very high winds blowing at the top.

THURSDAY, 1 APRIL 2010 13:11
Arrived back at Namche Bazaar, the main staging post for deeper trips into the Everest region. Staying again in the Moonlight Lodge, it's fine. Will go check emails here in a little while. I'm not showering, I can't be bothered. Think I will wait until Kathmandu, and have a proper good soak, to celebrate everything (including surviving the return flight). Tomorrow is a seven hour walk, but it's into the lowlands, should be good exercise. Was already great to trek in a T-shirt today.

THURSDAY, 1 APRIL 2010 18:03
Ganis has reached his guy at Lukla to hopefully rearrange my flight for 3rd April. Interesting seeing the people at the lodge here who are on their way up. Because they haven't tasted real cold yet, they all sit along the edge if the room at the windows, rather than the toasty spot (where I write this) by the yakshit fire. After tonight many will soon adopt the local etiquette I suspect.

I am toying with the idea of an easy river trip towards Chitwan national park, followed by a few days in the park itself trying to avoid any dangerous wildlife no doubt. That would be three stressful things in one holiday. Or perhaps Pokhara to relax, even trying yoga and meditation (three day course available). Or going home and being together again with Ursula, clearly the most enjoyable but maybe the easy way out.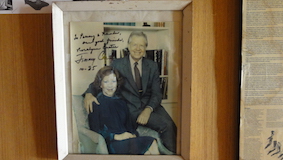 Illustrious predecessors David Brashears, Robert Redford. Also President Carter and Sting. Nepal is a time capsule in many ways.
THURSDAY, 1 APRIL 2010 21:17
Being a survivor of the trek, I now get to be a wise old man when talking to people on the way up. I try not to give too much away, because I think it is better for them to experience the whole thing fresh. Makes me laugh, typically one guy said that it looked like it would be a cold one tonight, whereas I consider it almost sub tropical here now. Not sure that the whole group are able to make this one though... Speaking to an Indian guy and his wife (who spoke Nepali?). The wife appeared to have trouble getting across the lodge dining room, let alone up to base camp. I think the husband knows this but doesn't mind himself. Nevertheless I would bet money that the rest of the group are already eyeing her with suspicion, as she will certainly slow them down or might jeopardise their trek.


SATURDAY, 3 APRIL 2010 22:53
I am back in Kathmandu! Onto a later flight due to hotel owner not really caring to get me onto an earlier one. I didn't mind the delays but worried that the weather would deteriorate as the day wore on [indeed, this is a worry worth having as cloud tends to roll in and the weather deteriorates in the afternoon]. Flight pretty sensational, sat up front, no cockpit door, could watch a lot, including a fantastic crosswind landing at Kathmandu Airport, easier to enjoy it after the fact.


Let Ganis go, somewhat uncomfortable though I guess thats normal after spending such a long time together. Gave him a good tip, great kid and he earned it. Couldn't get a room at the KGH so chose a posh alternative for a night, the Ambassador Garden House, to reward my efforts. Had a 45 minute long shower, the grime came off me in waves after six or seven days of dusty trekking without washing. That has to rate as the one of the best showers I will ever have in my entire life!

I feel that I need some time to recuperate after Everest. I might well be under 70kg again.


TUESDAY, 6 APRIL 2010 10:34
Whoop! Going home, earlier than planned, I have changed flight and cancelled rafting and jungley things. Those would be fun with Ursula but on my own I had a niggling feeling that I was only doing them because I felt I had to, rather than really wanted to. That leaves me a few days left to further explore Kathmandu. I will still have spent 25 days in Nepal, just rather than 34 originally planned. But I did what I came here to do, and I did it in fine style, so why not go home. It means I won't have to book into any more hotels, and I can afford to have this nice breakfast at the Ambassador Garden House, next to the KGH.

TUESDAY, 6 APRIL 2010 11:42
Cutest dog ever at breakfast, a baby bulldog, has the cutest little bark I have ever heard.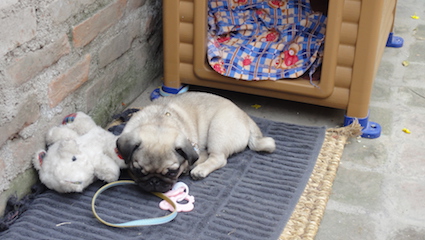 TUESDAY, 6 APRIL 2010 17:31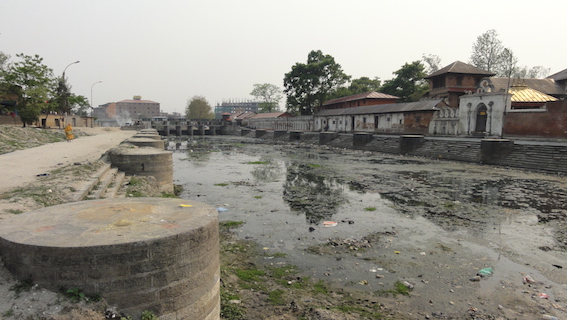 Most holy cremation place in Nepal. Stinks. Filthy. Disgusting. Very Atmospheric.

Large parts of Kathmandu are very dirty and levels of hygiene in the streets and with regard to those who live there is very low. Many Nepali including the woman seem to like making a large hacking noise followed by indiscriminate spitting.

Today visited the holy cremation river at Pashupatinah, and it had to be the most polluted dirty looking thing I have ever seen. Many monkeys hanging around. A local family were in the process of cremating a relative. The sons had shaved their heads in respect, and set alight the pyre with the deceased on top. Nearby, another pyre smouldered with charred human remains, which were eventually tipped into the river. A bunch of Japanese took photos... how tasteless can you get?

[Edit: By talking to a local, I discovered that days before there had been a major cremation event which had covered the whole area of the city in a pall of dense smoke… this had been exactly the evening I had arrived and been driven into town from the airport… so that solved the mystery of the stifling atmosphere on my initial ride in. Also worth pointing out were the Sadhus (which means Holy Men) that populated the area, with painted faces and long braided hair. I took a few pictures but did not interact.]


Afterwards, I followed the suburbs to their holiest Stupa [temple] called Boudhna. It's worth seeing as a building and for the quirkiness of worship on display. Many people were repeatedly prostrating themselves, in a vaguely similar way I have seen Muslims worship in Istanbul's mosques. The majority of worshippers made a counterclockwise rotation of the temple, pushing scores of prayer wheels, while others spun a kind of spinning top. A few others poured small stones or rice repeatedly over a copper plate. Some worshippers repeat these actions again and agin for hours on end. Repetition seems to be the keyword. Just seems plain pointless to me.

Gladly escaped by taxi and then detoured to the famous Yak and Yeti Hotel to check it out, and slurp a lemon soda. I read about it in Michael Palin's book, as he stayed there. The place is nice enough, though I doubt deserving of it's nightly price tag. I'm sitting here now, actually looking forward to get back to the KGH. I will walk from here.

Once again, happy to be saying namaste to Nepal on Thursday. I have had a sore throat, bloody snot, a blocked nose or some combination of all three since the first day I arrived, about 25 days ago.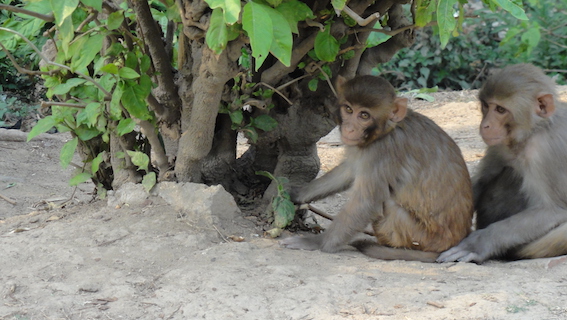 Wild Monkeys living at Pashupatinath in Kathmandu City.


WEDNESDAY, 7 APRIL 2010 21:29
Starting as I began, with a beer at the KGH.
While the KGH is "relatively" clean, Kathmandu is a filthy place in the end. There is no escaping this fact. There is also little of modern elegance here. Anything that has beauty - and there is plenty of that in the old part of town and the temples etc - was manufactured a long time ago, or at least copied from something old. It also sits on a huge earthquake zone. That coupled with the shoddy buildings means that one day, Kathmandu is going to be facing a very major disaster. Meanwhile, I found the Nepalese to be generally extremely friendly, open and genuine.... Heartwarming, although with an edge of desperation in some and an overflowing torrent of it in many others. Two nights ago I saw a bunch of homeless teenagers of maybe twelve years old sniffing drugs openly in the street. Today I passed a young boy who slept in the gutter with several flies resting on his lips and nose.


As much as I genuinely have loved to do the Everest trek, it is not easy to imagine me returning to Nepal in the very near future. However, I have had a splendid time and a great experience. I got what I wished for and I made a successful, exciting, invigorating trek. My self confidence is bolstered, and I hope that this nice by product will last me for some time.




THURSDAY, 8 APRIL 2010 15:20
Today for the first time Thamel, the area I have stayed in, has a slightly more chilled out vibe. Nice way to leave it.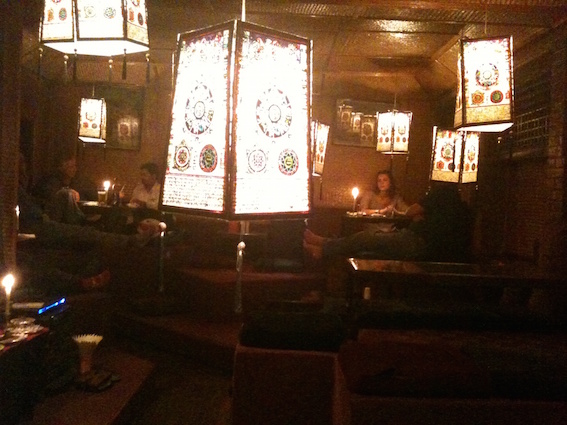 A cafe in Thamel, dark but full of Atmosphere, taken with iPhone

THURSDAY, 8 APRIL 2010 18:17
Kathmandu airport is predictably chaotic. I noted that security is very lax, that the traffic control tower seemed to maybe only have one person in it, and that the radar on the outskirts isn't turning. Wow… the power actually just went off for a little while just as I write this. Picked up a local newspaper, the front page noted that the radar will undergo maintenance for the next sixteen days, and that it hasn't been maintained due to lack of funds and technical problems for the last six years!!



FRIDAY, 9 APRIL 2010 00:48
Flying over India at night, occasional red splotches of light denote civilisation, except for Delhi which reads dim orange at this hour. The Middle East renders many precise and winding bright orange motorways, not a single car on them, and reminiscent of the trail outlined on my Everest route map.

Between Oman and Doha, blackness of the gulf sea then punctuated with several oil rigs of varying size and complexity. If not for that oil, I doubt that the Qatari's garb would be quite so spotlessly white and crisp.



Footnotes:

It strikes me that time glosses over a lot of imperfections. Before re-reading the journal, I had far rosier tinted spectacles of my memories of the trip. Indeed, I often think of this trip as one of the top I have ever made. It's easy to forget that even so, there are ups and downs to contend with.

Of minor note, I see that I was concerned about the spending on equipment and clothing for the trip. It's true, I did spend a small fortune (Chf 400) on Icebreaker Merino wool clothing beforehand: A short sleeve top, two long sleeve tops, long johns, and two sets of boxer shorts. I got sweet talked into it by a convincing rep at the store. I'll say this though, they performed brilliantly I'm still using them today and they are as good as new.

Ultimately, it's perfectly clear to me that I wouldnt swap this trip for anything. If you do get the chance to go… then GO! And I strongly recommend the $8 rooms [they may be more expensive now!] at the KGH, which is a magical mythical hotel which would easily make it into my all time top ten hotels.