What is LEJOG?
LEJOG, also known as "End to End", is a cycling trip between the two furthest points geographically on the mainland United Kingdom. Lying in the extreme South West is Lands End (LE) and John O Groat's in North Eastern Scotland (JOG): Put them together and you have… LEJOG.
It's a lot easier to join those two words together in a sentence than to join them up by cycling between them, I can tell you! Our route took us 1700km over 14 days. Its more common than to do it this way than the reverse (known as JOGLE for obvious reasons). Apparently, the prevailing winds generally slightly favour it, and since I had never been to Scotland before (yes, silly me) I thought it would be great to finish there and afterwards spend a few days recovering and discovering Edinburgh.
This time Ursula kept a journal, at my request. I'll think about digging that out and adding it here at some point, but for now just some brief impressions…
Tips and Advice for anyone considering LEJOG.
I've done quite a bit of travelling and this trip taught me that you don't have to fly off anywhere exotic to have a great adventure… it's also in your backyard!
Do not underestimate the training required to do this trip. Also, don't just train on flat roads, build in some hill climbs and remember that on the actual trip, you might be carrying a significant amount of luggage.
Speaking of which, you can also choose to do LEJOG in a supported group, with a driver carrying your luggage. This is worth considering if a) you want to race fast and b) you have less than 14 days (supported riders tend to take ten days or less). We much prefer to do our own thing and felt that the sense of achievement would be greater if we made this trip completely unsupported. I stand by that. As I've said in my Nepal blog, I'm not the kind of guy who wants to get to know a large group or work to other peoples schedules. Take your pick though!
Do not underestimate Cornwall at the start. That's potentially one of the toughest stages, and it comes right at the beginning (assuming you tackle the route that way, as most do, rather than starting in Scotland).
As tough as the first days are, after five days in the saddle, you feel like you are born to ride. Lets get going!
Average daily distance was 117km. Longest was around 140km and shortest day around 85km.
Average time cycling for us was 10 hours per day (shorted was about 7 hours, longest around 11, but nearly all the others around 10). This surprised me because I can cycle 117km in less than that, but with time for snack and coffee breaks, and a little sightseeing thrown in, the day is taken up.
Staying in Youth Hostels is to be recommended. They are used to cycle travellers, are cheap and all the ones on our route were uniformly excellent (well the Scottish Castle one was pretty cold, but you can't have it all). Food in the hostels was also normally really good and good value.
Secondly, staying in local pubs is also to be recommended. A lot of pubs have a room or two above them and we never had a bad experience. After a long day on the saddle, park the bike, move into your room and clean up, then head downstairs for a pint and some pub grub, then back upstairs to collapse into a well earned sleep.
The book that we used: The End to End Cycle Route by Cicerone, was excellent. Linked here:

Considering LEJOG? Get this book!


I cannot recommend the book highly enough. It also comes with a download link for .gpx files, which you can load into your smartphone and open with an app and is then basically like a Sat Nav for the whole route across the UK. The link for this app which we used is:


Using a smartphone with a GPS app enabled uses battery quickly. You should turn it off when you are sure of your route. I brought a battery extender made by Mophie which basically doubled the battery life of our phones. We kept the phones in a clear pouch on top of the front handlebar pannier.

We did the trip on racing bikes with pannier mounts and Ortlieb panniers. Firstly, don't let anyone tell you that you cannot do LEJOG on a racing bike (as some people told me)… you can…. However I would recommend to put puncture resistant tyres on. We chose racing bikes to keep weight to a minimum.

In terms of traffic, the route we followed using the Cicerone guide book made every effort to follow an interesting but traffic light or traffic free route. Indeed, over the whole 14 days, there is just one nasty stretch of road (which is a major route for trucks), which is unavoidable, around Loch Lomond. Nevertheless, even here, most of the time we just rode on the pavement, so it was no problem.

We travelled light with all luggage (enough for three weeks) weighing under 12kg each. Another triumph for my superior expedition packing skills :-)

Ortlieb panniers are absolutely a first, second, and third choice as far as I am concerned. They are 100% waterproof and excellently designed, and more or less bombproof. I've no doubt that they could make a round the world cycle trip (as many have, e.g. Mark Beaumont). We used two rear panniers and one handlebar pannier. We forewent front panniers but would have used them if we had been camping rather than staying in hostels and pubs.

We did our trip in late August and September. Mornings were chilly but overall it was a good time of year for it.

Scottish Midges (mosquitoes) deserve their reputation as being extremely invasive and annoying! Fuck off midges!




Here are the headline statistics:

1) Total vertical climb over the tour was approximately 12000m, compared to Mount Everest which is 8950m!

2) Total descent 12120m

3) Highest total climb on a day was 1265m on day 2 over Dartmoor

4) Greatest total descent in a day was 1239m from Slaidburn to Keswick

5) Least calories burned on a day was predictably Monmouth to Clun at approximately 2700 each.

6) Greatest day of calorie burn was Glencoe to Inverness at approximately 4400 each.

7) Total calories burned each during the trip was approximately 50,000.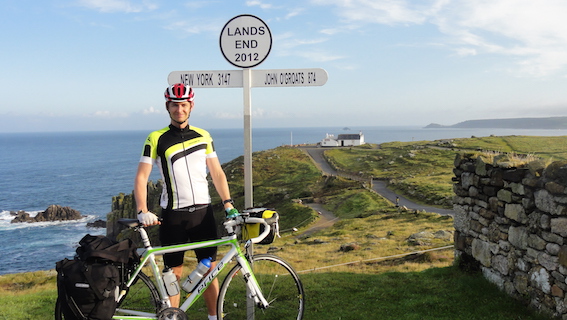 At the off!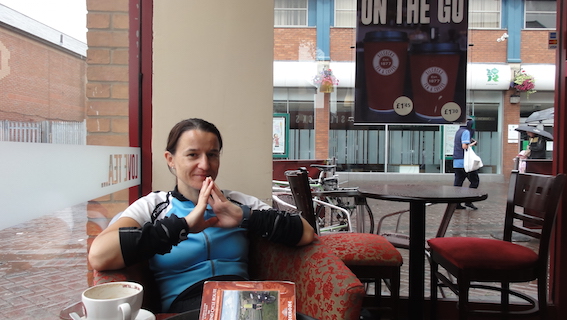 Cafe Break during torrential rain day.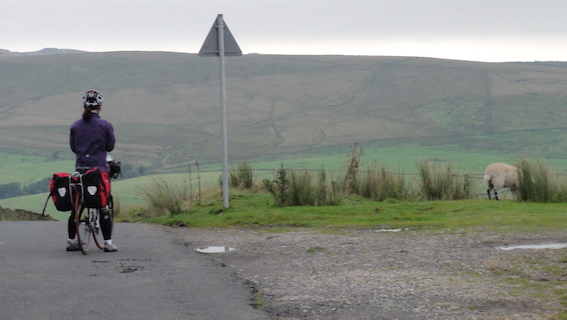 Time to appreciate the views.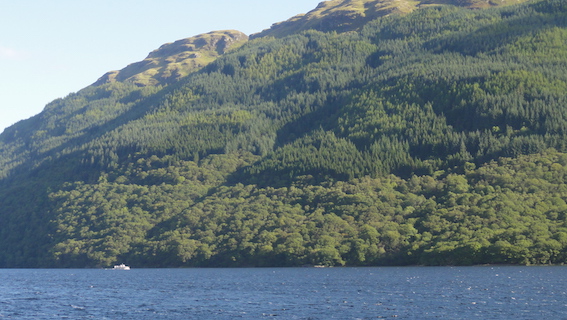 Especially once you get to the highlands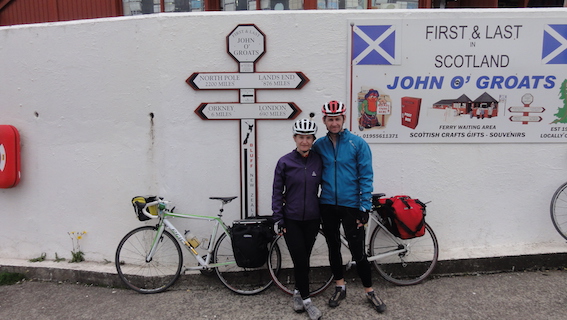 14 days of 10 hour cycles between this and the first picture on this page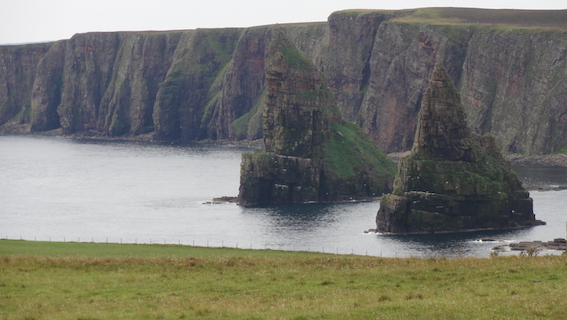 Nice Sea Stacks off the Northern Coast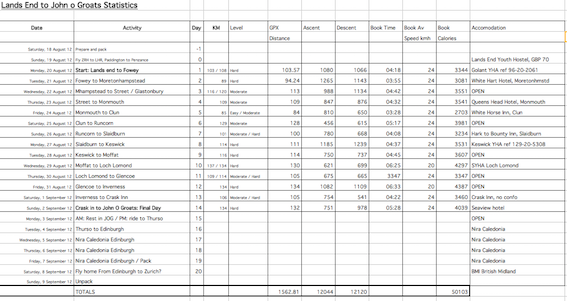 Our itinerary