Latest Race Reports: Running the Zurich Lake / Lausanne Marathon 2018
Directly after my nice experience running the Jungfrau in Interlaken in early September, I started to wonder about fitting in another event before the last of the season (Lausanne at the end of October).
An idea had been gestating in my mind for a while…. why not attempt to run around the Lake of Zurich (called the Zürichsee in the German language). After all, I had cycled it plenty of times on my road bike. On the other hand, it would be 66km… the third longest run I had ever attempted. And yet, if I was going to do an ultra distance again and if (as I currently do), I consider 100km to be too taxing on the body… it had a certain allure.
The logistics… there is no organised run around the lake. As far as I can tell, I see no record of anyone ever doing this route at all as a run. That's not to say it hasn't been done. Probably it has. But it is not documented.
So, a 66km run without any support then? Sounds like a challenge!! I frequently use a forum called Englishforum.ch which supports expats from all over the world working and living here in Switzerland. So I decided to advertise on it to see if anyone would be mad enough to join me. I decided to capitalise on my Jungfrau strength and set a date three weeks down the line, right in the middle between now and the Lausanne date.
To summarise, a guy knew a guy who was training for an even longer 100km race in Spain. His name was Ander, an aircraft mechanical engineer, and he decided that my little jaunt would be a good training run for him. We met for a 10k the week after, to eyeball each other and talk about the race. I agreed to cycle around the lake the following week to make a note of the logistics… were there enough fountains, kiosks, garages, etc, to guarantee our nutritional needs? My benchmark was, that there should always be somewhere to get liquids within 5km of any point on the route. Turns out, there was. Good for us. Race was on.
We met up at the ferry quai at Bürkliplatz at 7:30 on the chosen date. I scoffed down a croissant and a coffee while Anders was en route. Weather was good. Chilly first thing but predicted to be warm later in the day. No start gun, but with a press of a stopwatch button, we were off. I had told Ander several times that I was not out to break records, and intended to run the distance at a pretty slow pace to help my chances later in the run.
With that, we ambled along between 5:40m and 6:00m per km (5:40 being an approximate pace for a four hour marathon), stopping to drink every 5k and eat and drink every 10k. I have no doubt that Ander would have gone quicker without my explicit wish to stay slow. However, he was very friendly and cooperative and we chatted happily for the first half of the race, up to Rapperswil. There, at the top of the lake, we had ran around 31km if I recall. We chose that to have a rest stop and snacks.
After that, we crossed over and continued, getting slightly waylaid by a public footpath, prompting me to suggest that we stick to my known cycle route. It would be closer to traffic but the chance of needing to backtrack would disappear. When running 66km, trust me when I say that turning back on dead ends is something that you are keen to avoid!
Mental expectations had done their thing and adjusted upwards, so that mind and body no longer counted down to the usual 42km finish. Around 36km though, I noted that my legs were getting pretty stiff, and I was slowing down from what was, honestly, a pretty leisurely pace already. Ander had pains too, especially in the legs, but was basically was still strong in terms of energy and we talked about him potentially going ahead.
We decided to push on together until the 42km mark and then take a break for liquid and a snack. We sat in the shade at the side of the road as the temperature had now really heated up. It was on the way to soon be over 20 deg C, which was really quite warm for the time of year.
Around this point in the race, a switch in our relative conditions occurred… I started to regain some strength and yet meanwhile Ander started to flag…. increasing amounts of pain in his legs and feet started to give him real cause for concern. We switched from continuous running to a 8/2 split… run for eight minutes, power walk for 2 minutes, and repeat. It was clear that Ander was starting to suffer badly, because he kept asking when the 8 minutes was up! Fair enough.
At about 50km, we stopped for our "lunch" break and I ate a sandwich picked up from a garage. Shortly before, Ursula had caught up with us. She had cycled around the lake and the idea was that she could provide a bit of support in the last third if necessary. Super helpful as always!
Sitting there, Ander contemplated to abandon the race entirely. It would not have been unreasonable at all, because he was after all training for a longer and more serious 100km event just a few weeks from now. On the other hand, if he was quitting at 50km, then how would he survive a 100km event (with massive climbs involved)?
My advice was - if continuing todays run would put him at risk of an injury that could screw up his 100km, then he should quit. But, if he thought that completing todays run would not cause a serious injury, he should continue, even if slowly…. because time on the feet would still be good preparation for his longer run.
I think he felt the same. With approximately 15km to go, he decided to try and finish the race but by walking. I felt this was the best solution, and suggested that I should go ahead as I still had running power. We agreed on this. Stopping for a drink at the Wadenswil ferry stop, I ran on, leaving Ander behind.
The next 15km turned out to be difficult but doable. I was anything but fast, but I somehow had some resources. I immediately dropped the 8/2 split in favour of a continuous slow run, still stopping when needed for a drink. From 55 to 62km was particularly difficult - it just seemed to take forever - but seeing Zurich city in the distance did provide at least some respite.
Eventually, reaching the city borders, I caught a last wind and jogged more quickly towards the finish. At the end, I celebrated with a cold sparkling water - my usual tipple after a marathon and which I always massively look forward to - and did some gentle stretching before slumping onto a bench and happily chatting to Ursula about our endeavours.
I thought of Ander and wondered how he was getting on. Turns out, not badly! Ursula spotted him walking nonchalantly past us on the bench. He ended up finishing approximately 15 minutes after me. I shouted… Ander!! Handshakes and smiles. He got back some energy and ran it after all. A great result. It took 8 hours and 17 mins. Neither of us were particularly strong that day. I think in good form I could definitely do it in under 8 hours and possibly around 7:30. Who knows, maybe next year!
From my own side, I do think that running it with someone helped me out - it's just fun to chat and not be in too much of a hurry. Conversely, Ander's natural pace would be a bit quicker than mine - he is ten years younger as well - and perhaps that didn't help him. But it was and is clear that he is a really strong guy and capable of great mental and physical exertions. He went on to run his 100km, with about 5000m of vertical ups and downs, in 21 hours in foul weather. That shows character!
Finally, to say, I enjoyed it immensely to devise and then complete this challenge. Another great chapter in my running career.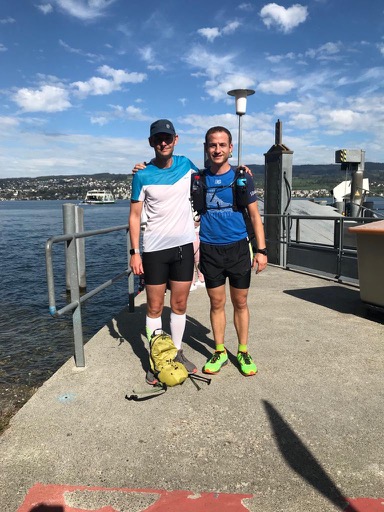 17km left. Fresh as daisies!
Race Report: Lausanne Marathon 2018
Back to where it all began. Coming full circle, I closed off my 2018 running season with the Lausanne marathon. Compared to 23 degrees and sun on my run around the Zurichsee, today it was 4 deg, wet, and windy.
We lodged in the Hotel Fassbind (a nice find and good value, in a lovely quarter of Lausanne). When picking up my bib at the Expo, I was saddened to find that the pasta party on the boat is no more. A shame - that was the best pasta party I know. Oh well, things change!
I'll keep this one brief. For clothing, I layered up so as to remain toasty. So, long thin trousers, an odlo vest, long sleeve T shirt, and Nike storm running jacket (my new Salomon jacket just doesn't do breathable as well as I need). Yeah, probably overkill, but hey - if you read about my first ever marathon (this one, but in 2010) you might recall that after that one I landed in the medical tent with hypothermia in warmer conditions then today.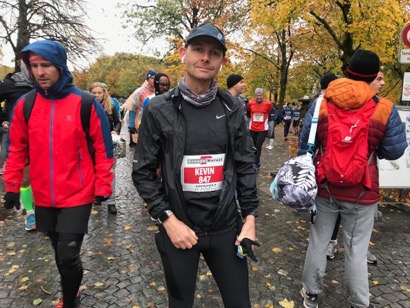 So, the clothing was a little much, I could have lost the vest or gone for a short sleeve t shirt, but whenever there was wind I was happy to have the jacket, as typical running shirts offer little to no wind resistance. I was aware also that while on the move I would normally be fine, but in case of needing to slow down and stop, I would cool really quickly, so that was another reason for the layers.

Even with all my experience, I still sometimes find it tricky to strike the right balance of clothing for the conditions, and you only really know it once the run has started and it's too late to change anything.

Crowd support was still very nice, as it always is in Lausanne, and while clouds precluded us from the usual stunning views over the lake and Alps beyond, we still got nice views of the vineyards on the Lausanne side as we wound our way up to Vevey. There really is something about this route that is quite magical. I don't know if it's based on nostalgia because it was my first ever marathon, but even so, it feels special. The views, the road closures, the official support, and the crowd support combine to make it more than the sum of it's parts.

So what about race strategy? This would be my sixth and final race of the year - after Zürich, Zermatt, Davos, the Jungfrau, and the lake run. Only the first one was a normal flat marathon, and there I had suffered pretty badly with nausea. As usual, the sub four question was in my mind. On the plus side, I had ran a lot this summer, so should be in shape for it. On the other, I had mostly done trail running, which is somewhat different. Back to the first hand… Lausanne was flat, but as Ursula and I have discussed several times, it isn't really that flat. There are a lot of long rolling inclines on the way out and on the way back. On the way back, they have a habit of destroying me.

I had a plan. I would take huge care to not overdo the first half of the race, and then see if a negative split would be possible on the return leg (negative split meaning a faster second half of a race). After the usual enthusiastic start, including a nice bit of downhill, going slowly turned out not to be a problem! My legs were already getting stiff by 15km - this was not at all an encouraging signal. I reached the half marathon point with 2:00:30 ish. In fact, I would have liked to be more around 1:58 but my body wasn't feeling cooperative with that.

As I turned direction and headed back in the direction of Lausanne, my mood went through several long rolling inclines in the same way that the road did. At points, I figured, I had a shot at a sub four. At others, it seemed futile. The four hour pacemaker provided by the race support team was still behind me, but I could clearly see him, perhaps 250 metres distant. Plus, he had possibly started a few minutes after me, which was not helpful.

I decided to fight hard to keep my momentum until 30km, and then consider my situation. Well, my strategy of keeping reserves paid off. Between 30 and 32km, something clicked and I realised I had a real chance of staying ahead of the pacer. I realised too that a sub four here would be a fantastic end to my season.

Yes, I know it isn't the kind of performance most marathoners would write home about. Switzerland is a pretty fit country. The median marathon time is around 3:50 (compared to 4:30 in the UK according to what I can find out). So, in Switzerland, i'm pretty average. Just earlier that week I had had a job interview and the interviewer himself was a sub 3 guy. But I never set out to compete like that. I am competing with myself in a way that I am perfectly happy with.

With all that in mind, I knew my target today was now within the realms of possibility and I tried to take steps to achieve it. There were still climbs in the road to deal with. This may sound strange because they are gentle, not steep like the mountain marathons I do. But in the mountain marathons, you disregard the normal assumptions that most people have about marathon times. In a flat marathon, it is so much more important to control and keep your pace stable (having to stop for a pee can seem like a monumental waste of time). However gentle they may be, ascents can still add precious seconds to your per km pace, and that's not helpful with a pacer almost literally breathing down your neck.

So I endeavoured to speed up a little on the flat and downhills, and try to maintain my pace on the climbs. I realised around 32km, that I could do it. I also realised that I was not going to get sick or nausea today. I'm not sure why, but I just knew it. This gave me a burst of happy endorphins… a virtuous circle was being drawn. Finally, I knew that there was a good chance of me getting under four hours, and not only that, but I could enjoy the experience. This may or may not be clear from my little narratives here, but precious few of my marathons have I been able to truly enjoy during them. Marathons are mostly Type 2 kinds of fun, after all (you can google that to see what that means if you are curious). I have only felt strong during the last third of, maybe, three marathons, today included.

And today I did indeed enjoy. I did not feel sick. I felt strong. Some great tunes on my headphones kicked in and added a smile to my face. A runners high was firmly in place! I had previously used Siri to message Ursula saying that I would likely be crossing the line some minutes over four hours. Now I messaged her again and told her that I might be under it after all.

And so it proved. A strong finish, sprinting the last 100m like Usain (ok, that's what it felt like), and a nice gold medal and blue finisher shirt, and my favourite after marathon lunch of all the events I do - a small vendor by the lake selling a delicious cheeseburger. Stretch, and and train trip back home and a nice bottle of French red wine, finally falling contentedly asleep on the sofa while watching a travel documentary.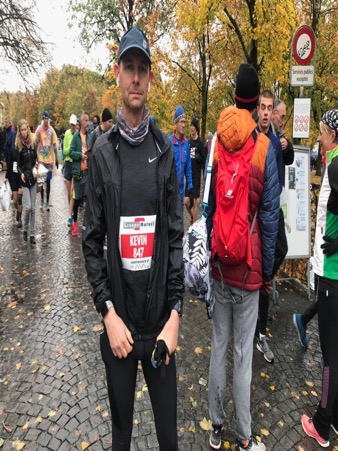 To read my all my other race reports, click here